Compiere Partner Network
Customer demand for easier and affordable business solutions software has resulted in a vibrant ecosystem of companies participating in the Compiere Partner Network. The Compiere Partner Network includes System Integrators, Value-Added Resellers, Independent Software Vendors and Technology companies that provide products and services that enhance Compiere business solutions. Contact us now to become a Compiere Partner
Most Compiere customers work with Consona and a Compiere Authorized Partner to implement customized business solutions software that creates maximum long-term business value at a reasonable cost.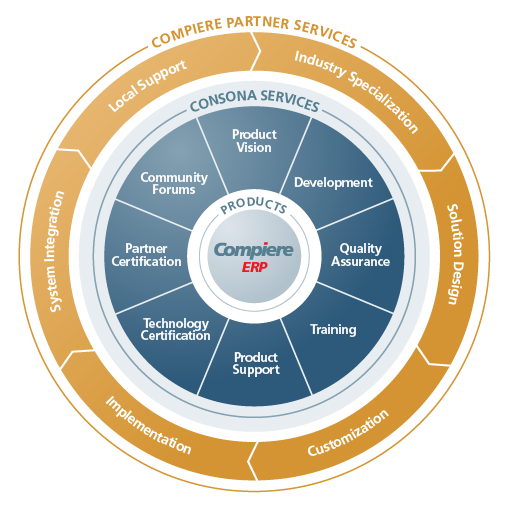 Compiere Authorized Partners have skills ranging from solution design, implementation, system integration and support. And, some partners specialize in specific industries or geographies. Compiere partners are located in over 25 countries.
Use our Partner locator to find a partner to assist you in the evaluation, selection and deployment of customized Compiere business solutions software.
Consona is recruiting System Integrators and Value-Added Resellers with ERP implementation expertise to join the Compiere Partner Network. Independent Software Vendors (ISV) seeking to embed the Compiere ERP platform in their own branded product line are invited to join the Powered by Compiere program.