Compiere ERP Implementation
You may think that evaluating an ERP and CRM software solution will be complex. Relax. The following ERP implementation principles are your roadmap to successful installation, customization and deployment of Compiere.
Get an Overview of Compiere ERP and CRM Software
The Compiere web site offers many resources for giving you a broad overview of Compiere capabilities, its model-driven platform and user experience. The following sections of our web site will enhance your product knowledge:
Capabilities – Details the business processes Compiere ERP and CRM automates
Platform – Describes the technical features and advantages of the Compiere ERP and CRM platform
Product Tours – Demonstrates Compiere ERP and CRM in action through a series of Adobe Flash movies.
Learn More about Compiere ERP and CRM Software
Compiere Documentation is available to purchase as a single copy or as an annual subscription. The documentation contains more than 900 pages and covers the range of Compiere features and customization techniques. A documentation subscription entitles you to a full year of documentation upgrades.
Training Classes provide an intensive study of Compiere functional capabilities and customization techniques.
Customize the Garden World Demo
Experience Compiere's flexibility for yourself by installing Compiere ERP and CRM software and working with the "Garden World" demo environment and data. The Garden World demo gives you experience with ERP implementation, navigating in the Compiere application, and working within the user interface. It also provides a simple environment to tryout customizations to Compiere.
By customizing the Garden World demo, you'll learn that any decision made during Compiere ERP implementations can be changed later. This includes accounting periods, approval workflows, product and organizational hierarchies and more.
Compiere ERP Implementation for Your Business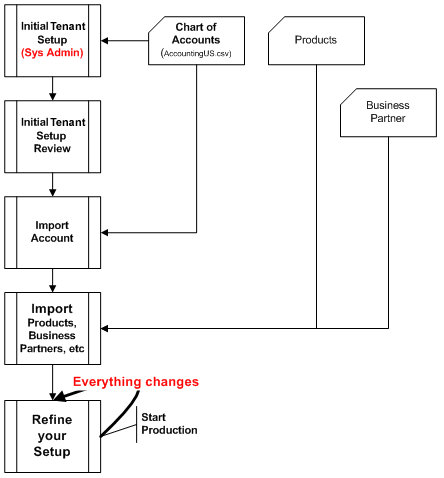 1. Preparation
If you have an established business, you may want to prepare your current chart of accounts, business partners and products for import into Compiere to begin your ERP implementation. Although you can import all these entities later, it saves time if you import your chart of accounts first.
2. Initial ERP Implementation
Start the initial ERP implementation by logging in as "System Administrator" and by running the "Initial Client Setup" program.
This program creates Users, Roles and "Standard" entities for Document Types, Business Partners, Products, and more. The program creates two users: the user with the 'Client level' role has all the rights to maintain the rules and to enter transactions. The user with the 'Organization level' role has all the rights to enter transactions.
After running the Initial Client Setup, you may optionally log in as the Client level role to import your customer and vendor contact information (known in compiere as "Business partners") and product information.
Once you've completed the Initial Client Setup, you may log in as the Organization-level role and print your first invoice.
3. Refining your Compiere ERP Implementations
After completing an initial ERP implementation, you have everything to get started using default settings. Review the initial settings using the "Initial Client Setup Review" Workflow to begin the process of customizing your Compiere ERP implementation for your enterprise.